Horseback riding Alive -the Uruguayan rugbiers plane-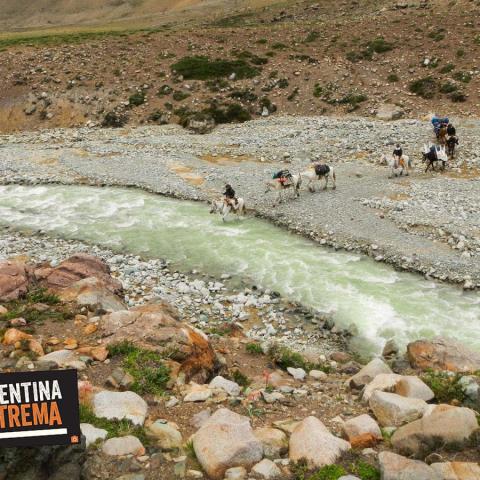 A 3 day - Horseback riding to the Miracle of the Andes
Place:

El Sosneado, Mendoza

Region :

cuyo

Modality :

Cabalgata

Start Date :

27-12-2019

Start Date :

29-12-2019
Difficulty :

moderate

Distance :

1400 km from Buenos Aires

Duration :

3 days

Initial time :

8.30 am

End Time :

3 pm
Season 2018 / 2019:
New year: 27th to 29th December.
January 15th to 17th
February: 12th to 14th
March: 3rd to 5th
Trekking expedition (walking):same dates , starting on the day before the horse riding.
A touching story…
October 13rd 1972: A Uruguayan plane carrying 45 passengers to Chile, most of them students and rugby players, crushed into the Andes.
Twelve of them died because of the crush.
The survivors had to carry on living with hunger and trying to tolerate the fearless mountain, 30 degrees below zero during many nights.
They tried to resist with a limited reserve of food they found within the wrecks of the plane, as they waited to be rescued. Their faith decreased when they heard on the radio that the rescue had been called off due to the belief that none of them had survived.
Finally, tired of the low temperature, the threatening avalanches, the increasing anguish for the dead friends and the loss of hope to be rescued, two of them decided to cross the huge mountains to reach for help.
This is how in December 22nd of 1972, after 72 days of isolation, the world took notice that sixteen passengers from that plane had beaten death.
This event was later told by the survivors, in a book and, later on, it turned to a movie "ALIVE", which showed this story to the world.
Today, the journey starts at this breathtaking location.
And we invite you to visit this place, as you go over this story….
Day 1: Meeting at El Sosneado (If you are staying in San Rafael, we can pick you up; transfer is included). From there we will take a 3- hour trip up to the mountain by vechicle. Once there the baqueanos will begin to set up the horses and to prepare the loads that will go in the mules. . On this first day we will cross the rivers Atuel, Rosado and Barroso. After 4 hours riding, we will arrive at our camp base, El Barroso. Lunch. Afternoon free to relax and enjoy the landscape. Dinner. Approximate hours of cavalcade: 4 - 5 hs.
Day 2: After breakfast begins our longer and challenging day of the cavalcade towards the Valle de las Lagrimas.After 4 hours approximately, we will finally arrive at the "Las Lagrimas Glacier", reaching the 3.700 msnm, on the border between Argentina and Chile. We will ascend walking up to the commemorative cross where in a respectful silent we will honor the victims. Then, in company of our guides, we will walk along the zone doing a local recognition of the rest of the fuselage of the plane Fairchild, dozens of crosses, epitaphs, flags, offerings, and the monument to the victims. After lunch , we will return to our camp site. . Farewell dinner. Approximate hours of cavalcade: 5 - 7 hs
Day 3: After breakfast we wil prepare the horses and the loads for the return. We will ride up to El Sosneado. Lunch. End of our services. Approximate hours of cavalcade: 4 - 5 hs
RECCOMENDATIONS
Stay the previous night in San Rafael as e can pick you up on the day 1 to start the expedition early in the morning
Note:
Note 1: All horses are properly trained and prepared to ride in the mountain and our baqueanos have the best conditions and local knowledge. It is not necessary to have previous experience.
Note 2: Active program with middle-grade difficulty suitable from 13-60 years old. There are steep ascents and descents but there are no places with significant risk.
Note 3:Program subjected to weather, poltical and geographical conditions. Modifications may occur. Decisions will be made exclusively by the guides, mountain guides and coordinators.
Included Services:
Entrance permit to Valle de las Lagrimas
Transfers in and out to El Sosneado
Transfers in and out to San Rafael
02 (two) nights of camping.
tents for 2 to 3 people
complete kitchen equipment
tents with table, chairs, lights.
personal tableware
All meals during the cavalcade, from breakfast on day 1 to breakfast on day 3.
Specialized guides and baqueanos .
Horses with saddle.
Mules for general equipment
First aids equipment
Satellite telephone for emergencies.
Services NOT included:
Trip to El Sosneado
Sleeping bag and insulating (request for rental)
expenses caused by the abandonment of the programme.
Tips
Services not detailed in included services
Recommended Personal Equipment List:
GENERAL EQUIPMENT
Small Backpack
Bag or large backpack (which will be carry in the bus storage).
Sleeping bag -10 ° comfort.
CLOTHES
Socks
1 pair of trekking boots or boots (in good conditions).
1 second pair of shoes. To stay comfortable in the camp area.
Lightweight long pants and a spare one.
3 shirts and / or shirts (two long sleeves).
2 sweatshirt (polar sweater, or wool pullover).
1 waterproof jacket
1 cap for the sun.
Raincoat
Warm jacket.
PERSONAL ELEMENTS
Passport or ID.
Medical insurance
HEALTH & HYGIENE
Sun glasses.
Sunscreen and lipstick.
Toilet paper. Baby wipes.
Towel.
Others:
Plastic bottle for 2 liters minimum .
Flashlight with batteries + spare batteries.
OPTIONAL, not mandatory (see space and weight)
Swimsuit
Personal first-aid kit
Steel thermos
Binoculars. Photographic or video equipment
Book,travel diary, pencil, pen.
Games; cards, dices, etc
Contact and Enquiries
RECOMENDACION : Debido políticas excesivas de seguridad de Hotmail.com, nuestras respuestas llegaran a Correo no deseado o quizas no lleguen. Sugerimos cargar en el formulario otras cuentas (No Hotmail) o comunicarse al 011-47663170. Muchas Gracias."
* Required fields.